by Corey Hinde | SEO New Zealand
Everyone knows…..
What OTHER people say about your business, is more impactful than what YOU say about your business.
Word of mouth / testimonials / reviews / "word on the street" – will generally play a big part in how well your business progresses.
We all know this… and of course, Google knows this too.
Google wants to give people the best possible search results – so of course they put a lot of weight on their own review system when it comes to rankings on Google Business Profile, formerly known as Google My Business.
You've probably done this yourself – Google something, check out the suggested Google Business Profiles, and make your choice based purely on who has the best reviews.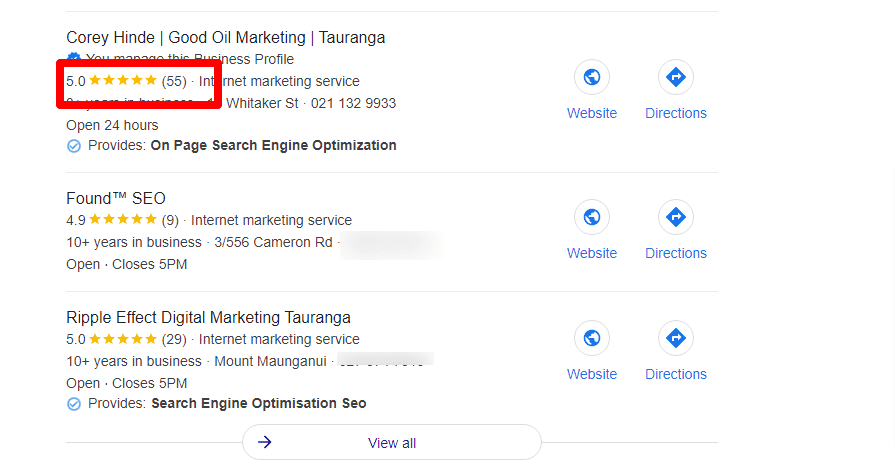 As you'll see above, our local listing has 55 reviews, and an average of 5.0.
So people feel pretty safe selecting us.
It would be a different situation if my total review count was 4, and the average score was 2.0.
In fact, its highly unlikely I would appear in the 3 pack for that search anyway.
Also – it's rumored that 90% of consumers read reviews before making a purchasing decision.
So of course, business owners in 2022 totally understand that getting more good Google reviews is a key part of marketing and reputation management.
The objective of this article is to give you some good strategies on how to get frequent, good, Google Reviews, so you can rank high on Google for your local map pack listings.
This will help your business grow.
Remember – Google Reviews are free, and they are on the worlds most trusted website, so it makes sense to chase after them!
Couple of points worth mentioning first:
1️⃣ Check Google's terms of service before going after reviews. Long story short, you can't ask for "good" reviews, you can't offer rewards for reviews, and you can't provide or do fake reviews. Do more homework HERE
2️⃣ You need to have a verified Google Business Profile. You likely already do, but if you need to add your business to Google, follow our advice in this article.
3️⃣ As part of our Google Business Profile service, we select 2 or 3 of these exact processes when we onboard a new client, and we revisit the "Review Gathering" aspect for the business monthly. It's well worth doing.
Let's get into the list:
⭐ Build a QR code and place it in your business.
These are very effective if you have a location based business. We've outlined the process of how to create your QR code in this article HERE.
People simply scan the QR code with their phone, and will be taken directly to the link to leave you a review. So simple.
You can also use the QR code in other places too:

On vehicles
On your website
Within your email signature block.
Get creative with the QR code, people are used to them now and use them frequently.
⭐ Put your Google Review link in your email signature block.
In fact, we recommend you delete the other elements of your signature block, and just have your link. People send and receive a LOT of email, its a great opportunity.
Here is my email signature block:


People know my email address, phone number etc, so why not just focus on an action I want them to take?
Of course, that Google review link just comes straight from the middle of your Google Business Profile management dashboard as shown here:

When you click on that "share review form" button, you'll be given a link like the one you see in my email signature block.
Asking customers for feedback should be a key part of your business activity as a business owner.
Our angle is "send us anything we should improve on, OR if you are happy to, just leave us a Google Review". This method can catch the "negative" or improvement issues, but also drive the positive reviews.
⭐ Ask for Google Reviews on Social Media
We engage a lot with our customers on Facebook, LinkedIn, etc. Why not directly ask for "feedback" on these platforms?
We usually ask our clients to scan their pages for the posts with the most comments, and then drop in a comment afterwards such as "Now accepting Google Reviews" with the link.
Up to you how you word it, but this method certainly works.
⭐ Email customers with updates, offers, and ask for reviews.
We've outlined this method in a recent YouTube training we put out HERE.
In short, the email outlined in that video suggests more surveying of customers, more email, and while updating customers and sending out offers, ask for reviews as well.
Another method we use is the "service improvement email".
In this email, we ask customers about how we can improve, we value their input, and would love to hear from them as we want to become the very best. Then, at the end, drop in the Google Review link – "if you feel we are just doing great and don't need to change anything, we'd love a review".
There are plenty of ways to use email to get Google Reviews – get creative!
⭐ Use the QR code straight from your phone.
We've seen a customer use this tactic VERY effectively.
He took the QR code created above in this article, saved it as a photo on his phone, and can show that to customers once he has done his work for them.
This guy happens to be a local carpet cleaner – so he often has customers on site with him, who see a freshly cleaned carpet, and are more than happy to provide a review straight away.
⭐ Provide your Google Review link on invoices.
If you are sending out invoices, why not put your Google Review link either in the invoice, OR in the email body that goes out with the invoice?
⭐ Create "review cards".
These are either online cards or actual printed cards, that state "How was xxxxx? Your feedback helps us improve our business for others" and then a Google Review link that people can use.
Alternatively, you can put your QR code on there, further speeding up and simplifying the process.
⭐ Install a Google Review widget on your website.
These are very cool.
Essentially, they'll showcase your existing reviews to potential customers (helping you convert more website visitors into customers), and make it easy for people to leave a review as well.
We've seen these in footers of websites, as well as dedicated "feedback" or "review" pages on sites.
If you Google "Google Review Widget" you'll find many samples of these.
Of course, be sure to check their reviews before making your choice!
⭐ Partner with suppliers to provide reviews to each other
If your business partners and associates are prepared to recommend you, they most likely won't have an issue with leaving you a quick Google Review saying as such.
We've had quite a few clients do this successfully.
Simply email your supplier / partner, and suggest that you both leave a Google Review for each other, and pop your Google Review link in the email.
Total WIN / WIN action to take, and entirely within the rules of Google.
⭐ Don't forget to create a shortened Google Review link
The long link (https://g.page/r/CQmRKXrXIO7kEAg/review) can be a bit cumbersome.
Why not pop it into a link shortener like Bitly.com, and have something like this instead: https://bit.ly/32WDjYb
Looks nice and clean.
We get clients to do this, and keep them on a notepad online so it's easy to grab at any time.
⭐ Remember to reply to all reviews
People like being paid attention to. Apart from being normal and polite to reply to a review, seeing the replies actually encourages other people to leave a review!
Replying to reviews also helps rank your Google Business Profile higher – we ensure our clients always reply to reviews. Its a crucial part of reputation management too.
⭐ Use the FREE Google Marketing Kit for getting more Google Reviews
Wow – thanks Google! These resources straight from Google are quite amazing. Check it out HERE

⭐ Invest in a Review Management Tool
There are a few of these around, and we won't make a direct recommendation but we do suggest you do some research.
In short, these can help you catch negative reviews before they hit the Google platform, drive more good reviews, and generally help you manage the whole process in a more time effective way.
However – be prepared to pay. These can be costly.
Check back often, we think we'll add more to this article over time.
► New article – How to fix a Suspended Google Business Profile
More Resources:
► How to get a QR code for your business to enhance Google Reviews
► YouTube Video "How to use links to improve your ranking on Google"
► Let us manage your Google Business Profile so you rank up the top of Google
✔️SEO New Zealand | Google Consultants | Local SEO